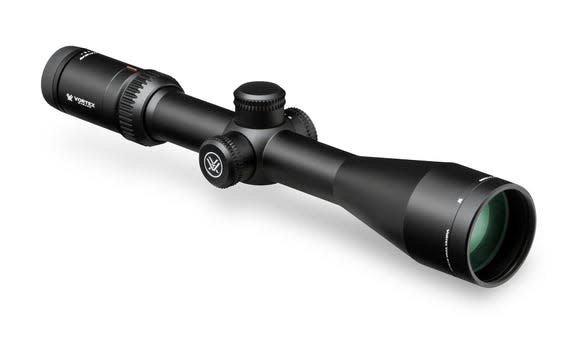 VORTEX VIPER HS 4-16X50 SCOPE DEAD-HOLD BDC VHS-4307
VIPER HS RIFLESCOPE
Vortex takes its incredibly popular Viper riflescopes to the next level.
Vortex Viper HS Riflescope VHS-4307
Vortex Viper HS riflescopes offer hunters and shooters an array of features sure to be well received. The advanced optical system, highlighted with a 4x zoom range, provides magnification versatility. A forgiving eye box with increased eye relief gets shooters on target quickly and easily. Built on an ultra-strong 30mm one-piece machined aluminum tube, the Viper HS delivers increased windage and elevation travel for optimal adjustment.
MAG-View Fiber Optic
Provides a highly visible reference point for the magnification setting.

Fast Focus Eyepiece
Allows quick and easy reticle focusing.
RETICLE
Dead-Hold BDC (MOA)
Customized hashmark design helps eliminate guesswork on holdover and windage corrections. Good for hunting/shooting at varying ranges where estimating holdover is a concern.
Subtension detail for Viper HS 4-16x50 riflescope with Dead-Hold BDC MOA reticle.
Objective Lens Diameter:
50 mm
Field of View: 
27.4-7.4 ft/100 yds
Adjustment Graduation:
1/4 MOA
Travel Per Rotation:
12 MOA
Max Elevation Adjustment:
50 MOA
Max Windage Adjustment:
50 MOA
Parallax Setting:
50 yards to infinity